Vocabularinist
Vocabularinist have existed for about 3 years as a sound making device, using many objects to produce their sounds & songs (drums, drum machines, guitars, bass, saxophone, synthesiser, toy keyboards, violin, bongos, flute, tapes, turntables, computer - whatever they can get their hands on!!)
Vocab's hectic touring schedule has seen them perform shows throughout Australia's eastern states. The revolving line-up contains 4 original members (Farnzschmitt, Listermint, Bumscuzz, Fast Craig ) but various forms of the band have come & gone. Consequently they have performed as a 3-, 4-, 5-,and an 8-piece (2 drummers at once!) & currently are a 7-piece, with the addition of Pheeelbo, Dodgy Leg & Juleman. Through everyone changing instruments constantly and everyone contributing to the song-writing process Vocab are able to achieve a variety of sounds, constantly evolving.
Because of their musical ambidextrosity, they have been able to play with a growing list of bands, including: Gerling, Dreamytime Escorts, Sneeze, Dogbuoy, SixftHick, Gripe, Vitrolic, Ford Hook Giant, La Huva, Magic Lunchbox, Flyspeak, Meaneither, Gilbert, Sonic Emotion Explosion, The Unknown, Stickmen, H.M.A.S, C-Minus, Lantern, D.J Vagas, Sea Scouts, Cult 45, Neveready, Monster Monster Monster, El Mopa, Lunacide, 2 Litre Dolby, The Funky Terrorists, Alien Christ, Lucas Abela, Menstruation Sisters, Whopping Big Naughty, Meaneither, Shanghai, Tangent, Bongo Rhythm, Virus b23, Der Brains, Stinking Badger of Java, The Oppenheimer Project, Frankie Death, Sleepy Township, Royal Chord, Nunchukka Superfly, Further and Pancake Day.
Vocabularinist - a variety of souls coming & going, writing/playing songs, pressing record & seeing what happens. Real instruments blended with toys & anything that makes a sound. Live to tape deck, hiss included, 4-tracking blindly, delaying & deluded. Into a whizz-bang thing with burnin ern & all his high-tech weaponry, feed raw vokab data in & ern spews back a labyrinth of sound, a few moons later "hasznasznisznasz" is found. A splash of fxd & a carnival of colour, 16 tunes with A, B's & C's, much silliness & sorrow, serenity & zootamatoostafied sing-a-longs, did I mention the coffee & bongs roughly 66 minutes of non-stop music & mayhem , the first "hi-fi" release from Vocabularinist , aptly titled "hasznasznisznasz" (for reasons unknown) .
A second CD - "Vorsichtsmassnahmen" is already complete, this time a collection of 4-track recordings from individual members & in various combinations, nothing planned, just lots of trancy weirdness - the alter-ego of the live band. Vocab have released heaps of lo-fi stuffs in the past, but never as polished as this.
Constant side-projects are eminating from Vocabularinist such as: releases by D.J Urinal Cake (where vocab music is destroyed, twisted & destroyed some more), Bumscuzz (acoustic, spacey, hippy) & Tangent (juleman & fast craig's other "melodicguitarfuzz" outfit).....stay tuned.
For lots more Vocab info check out the official site at www.vocabularinist.com or have a look at Chunky Yet Funky's Vocab page at www.acmecity.com/music/instrumental/179
Download Vocab MP3's from mp3.com/vocab
Contact Vocab / Bumscuzz / DJ Urinal Cake at vocabularinist@hotmail.com
Releases to date - Vocab: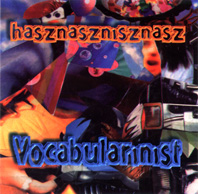 Hasznaszisznasz CD:
Tools For An Information Age / Fools For An Idiotic Stage Double Cass:
Back To Scratch Cass:
Zootamatoostafied Cass:
Limited By Progression Cass:
Thirdrolude Cass:
Attack Of The Sack Wack Cass:
What Do You Expect For $2? Cass:
Tracks by Vocabularinist appear on compilations by Barcode The World, Loco Records & Big Backyard Sampler 2000.
Releases To Date - Bumscuzz:
Must Not Speak In Compute Cass:
Signs To Guide Us Cass:
Overmation Infoload Cass:
Releases To Date - DJ Urinal Cake:
May Help Heal Brain Damage Cass:
Technophobia Cass:
Feed Your Brain Some Cass:
Amplified Bowel Movement Cass: