The Photon Belt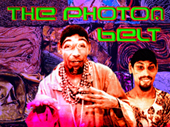 When Frankie Death gets together with "Burnin" Ernie O, you know something weird and wonderful is bound to happen, and The Photon Belt is certainly both of these! Mixing moving musical soundscapes with funky beats and catchy melodies, TPB create an intensely musical listening experience.
Download Photon Belt MP3s from mp3.com/ThePhotonBelt
Reviews:
"Very strange and mesmerizing...it has an annoyingly sweet way of diving into your subconscious and becoming quite nice and peaceful. I find it a great CD to fall asleep to late at night...for lovers of the slightly twisted, sometimes confusing and overall bizarre." Aristotle's Box e-zine
"Acoustic space-folk, hip-hop beats and electronic minimalism takes Beck's intuition to another level...The production has a 70's T-rex feel...and to be honest, the record as a whole took me for a hell of a surprise. It's instantly likeable and you'll love it!" Geoff Towner, Revolver street press.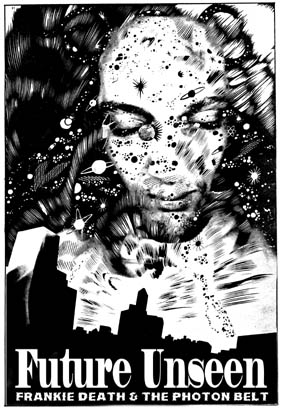 "The Photon Belt have taken up an exploration of otherwise inadequately charted musical territory ("here be monsters!"). In the burgeoning realm of electronica, their role could very well be described as that of the reclusive contemplative, living on the fringes and meditating on music's innate potential to transcend all styles. This recording is witness to some powerful mutations since their previous self-titled recording of 1996. Their performance on this CD is an eccentric welding of sounds, sampled from the commonplace, though usually ignored, music of everyday appliances, machinery and the sub-audible chatter of the mind. But the experimental bent is not taken to the extreme and into the eccentrically unlistenable. At times the soundtrack grates (intentionally, no doubt) but at other times it soothes and inspires. If anything, this recording is far from predictable." The Stinking Badger of Java Hymnal, Yippie Bean Publications.
"Bizarre...intriguing....a party soundtrack for the millenium" Subvert zine
"A journey from the bent to the bizarre, not easily categorized. The Photon Belt is a 'strange circular aircraft' indeed!" Radiation From Space magazine
"Muzak for stoners" Beat magazine
Releases to date:
The Future Unseen CD (With Frankie Death): A soundtrack for a near-life experience, "The Future Unseen" submerges the listener in
The Photon Belt Cass:
Tracks also appear on compilations by Blatant Propaganda (Vol 1), Barcode The World (On The Nod 2000) and Subversive Records (The Collection 96-98).
---