---
Subversive Records -
You heard it first from subversive.

The Oppenheimer Project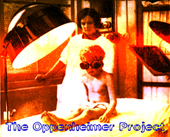 Somewhere in the uncharted interstellar depths between the constellations of Electronica and the Ambient system, drifts the Oppenheimer mothership, pulsating and gyrating to intricate beats, lights strobing in time. VoodooDisko pumps through the behemoth's deserted corridors, when suddenly >>>>zing<<<<<, a space bunny transmats in, just passing by, heard the sounds, you know, then another, and another. Before you know it, the mothership is pumpin!!!
Download MP3 tracks from VoodooDisko at mp3.com/Oppenheimer
The Oppenheimer Project - Interview by Dan DerBrain

Dan chews the rag with the inscrutable Ernie Oppenheimer, beatmaster supreme of "The Oppenheimer Project", Melbourne's electronicadelica/big beat outfit.

HOW DO YOU DESCRIBE YOUR STYLE?
Beats you can chill to. I guess there's a bit of an atmospheric/soundtrack thing happening, but the beat is primary.

WHAT SOUNDS/INSTRUMENTS DO YOU INCORPORATE INTO YOUR MUSIC?
What have you got? If it can be looped, stretched, warped, phased, twisted or decimated in some way, I'll use it.

WHAT ARE YOUR INFLUENCES?
Mostly herbal, a few chemical, and even some of fungoid origin.

WHAT KIND OF AUDIENCE IS YOUR MUSIC GEARED TOWARDS?
People that dance sitting down. With their eyes shut. And their mind open.

HOW AND WHERE WAS IT RECORDED?
It was created and recorded almost entirely on computer, wherever the computer happened to be situated at the time.

IS THERE ANY PARTICULAR SIGNIFICANCE IN THE TITLE?
I was fascinated by the parallels between voodoo rituals where repetitive beats and dancing are used to invoke spirits, and modern tribal trance rituals, where repetitive beats and dancing are used to achieve egoless states of ecstacy.

HOW LONG HAVE YOU BEEN WORKING ON "THE PROJECT"?
The "VoodooDisko" CD has taken just on 12 months from the first track being written. It went through a few "final" versions before arriving at this one (Ver 4.1). Tracks from it have already appeared on a number of compilations, and the album's only just been released.

HOW LONG HAVE YOU BEEN PRODUCING ELECTRONIC MUSIC?
Since before I can remember.

WHAT CAN WE EXPECT IN THE FUTURE?
The Oppenheimer Project live on Mars?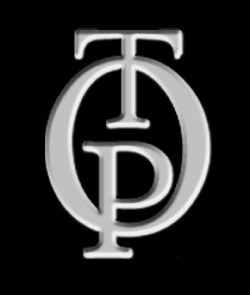 VoodooDisko Review from Blatant Propaganda zine #3:
"Here are 11 tracks and 54 minutes of way cool, highly original, fresh, exciting, and soon-to-take-over-the-world electronica. Aspects include trance, tribalistic jungle, acid, drum & bass, & big-beat trip-hop. Crunchy, funky, squelchy, ethereal, rolly-polly, scarey, cutesy and trippy... all in one!"

Releases to date:
VoodooDisko: 10 tracks of upbeat electronicadelica.
The Effects Of Sunlight...: Mellow, uplifting and ambient. (Originally released as "ON")
Tracks also appear on compilations by Blatant Propaganda, Barcode The World, and 3RRR.
---