Frankie Death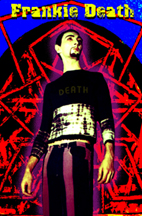 "The imagery of Frankie Death's music is both powerfully surrealistic and emotively personal...His poetic songs speak of the transformation that comes from self observation and the acceptance and integration of both the beauty and terror of life's experience." T K Bollinger
"Frankie Death, as the name suggests, creates darkly emotive and personal music. His combined acoustic guitar and simple harmonic vocals are given tension by haunting organic soundscapes. The music is a feast for the eyes, conjuring dusk, rain, early morning cars through water, and salt spray on windows"
Mister Opinion, Yippie Bean Publications.
The modern-day lo-fi troubadour superhero can be found (soon, anyway) at www.frankiedeath.com.au or contacted by email at frankiedeath@hotmail.com
Download Frankie Death mp3s from mp3.com/FrankieDeath
Releases to date:
The Language Of The Birds CD: kind of a "Frankie's Greatest Hits" compilation, with a few new tracks as well.
The Future Unseen Soundtrack CD (with The Photon Belt): A surreal pop soundscape for a movie yet to be made.
Dreamer Cass: "A drawling loathing of the machinations of existence...Frankie Death is certainly one of the more interesting experimenters in the recording of acoustic music."
Mister Opinion, Yippie Bean Publications.
The Window Cass:
Gone Cass: "Frankies fifth tape of home recording strangeness...an acoustical ride into introspective soundscapes. The wooden guitar wizardry of Mr Death combined with his obsession for drum-machines, chipmonks and love!!!"
Seven Seater Records press release
Alienation Cass: "One highlight for the collector of collaborative obscurities is the regular interjection of poet Adrian Rawlins' demonstrative bass, which teasingly reminds us of Orson Welles' lesser known work with fantasy rockers Man-O-War. Of particular interest is the song Shadow Creatures with its sorrowful refrain, and Why? (Because) which brings out Frankie's more sinister octave and the awesome bass guitar of Gideon Cozens."
Radiation From Space magazine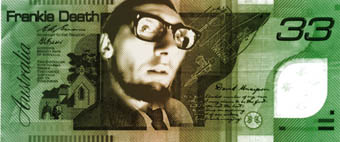 ---